Over 35 years of experience in the field and a constant commitment to research and experimentation are the skills and values that our owner has transmitted to all Prismatech staff. Key guidelines that encourage us to improve, to pursue the objective of offering efficient solutions for the beverage, tailored to the needs of customers and the market.
For two generations Prismatech has been concerned with what people around the world drink
This is our story told by who founded the company and saw it grow: Tiziano Bernini and his son Luca Bernini.
"When my son and I founded Prismatech in 2007, we were mainly involved in design and had our drawings and plants made by external offices.
At the beginning it was just the two of us but already in the first year, thanks to projects and collaborations carried out with leading Italian companies in the food and beverage sector, we developed experience and know-how, increasing the attention to detail and efficiency of our products. Through these partnerships we have grown, implementing our staff with two other employees, we have "learned" to export and to deal with distant markets interfacing with different cultures.
The experience gained and the desire to invest in high quality led us to internalize all the stages to ensure the quality and customization of our machinery. From design to production, from assembly to testing and start-up, every step necessary to obtain the Prismatech process plants is now entirely realized by us in the two thousand square meters of our headquarters in Fontevivo (PR)."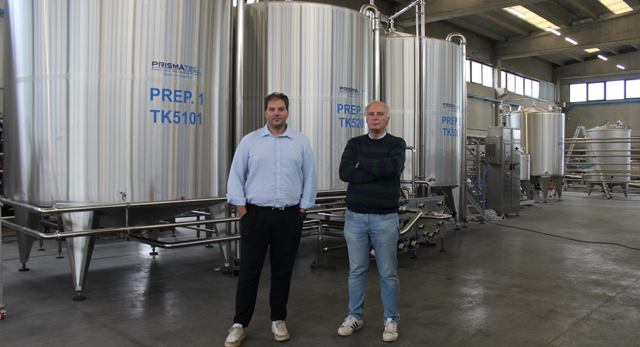 "My father and I have been able to not only monitor the quality and cost of our products, but also improve our ability to compete internationally. All markets now require a high level of technology, a lot of knowledge and flexibility to be able to standardize production, meeting at the same time the needs of different companies."
Wherever there is the need for mixing, dosing, heat treatment, carbonation for process liquids or sanitization, Prismatech is the perfect reality to rely on
The internal development of all phases and the growing appreciation of our machinery has led to exponential growth in the last five years. We are planning to expand the area of the headquarters in the near future, integrating a new hall that will allow us to divide the departments more efficiently thus obtaining more space for processing and logistics.
The Prismatech growth project, however, is not limited to spaces but also includes human resources: in 2018 the company became SRL and today, at the end of 2021, the staff has almost doubled to 15 employees.
A young team that bases its strength on gender diversity, ethnicity, and nationality; a multifaceted, proactive, and dynamic team that we are forming to accompany us in the achievement of our future goals
Among these, the strengthening of exports is a priority.
The presence at the Gulfood Manufacturing fair in Dubai has allowed us to strengthen relations with our foreign customers, meet new international operators and show our latest technological developments opening us to new industry collaborations in the Middle East, Maghreb, and Central Africa.
Prismatech production is destined for 50% abroad, for 30% in Italy and for the remaining 20% to complete lines of other companies.
Made in Parma is a great value for us at Prismatech, a brand we are proud to represent and determined to strengthen. We would like to create a solid district by creating new collaborations with Parma companies that have complementary or synergic productions to our.
Export and local cooperation, passing on our knowledge to the new generations to expand in a process of growth that has exceeded even the complicated historical period
For 14 years we have been involved in the construction of beverage and liquid plants for the food industry. We specialize in the production of soft drinks and alcoholic drinks, fruit juices and mineral water. Thanks to the standards reached in years of refinements, our products guarantee constant saving of water, electricity, and steam. Aware of the importance of supporting our partners at every stage, we offer professionalism, reliability, and spirit of cooperation, ensuring an active support network before, during and after the sale, for the assembly, disassembly, and maintenance of our plants worldwide.
Our mission and vision of growth are renewed for the next year with sincere good wishes for happy holidays from the whole Prismatech family!
We will be closed from December 24th to January 9th.